MY TEAM
Internet-Minded Design & Development
The Creative
Some people say I'm a perfectionist. My strongest traits are creativity & versatility. I am very practical and know how to organize big amounts of information. My background in architecture gave me the ability to see details and the big picture at the same time. I'm patient, enthusiastic, serious, and openhearted. I love my work and truly want to see you thrive.
The Nerd
The Web is a wonderful tool, but I see that most small organizations are only scratching the surface of what they could do. I make complex Websites work, collect data from people, write programs that collect data from existing websites, spreadsheets, databases. I set up email lists, content management systems, wikis, custom-modified interfaces, plugins and all. You name it!
The Ensemble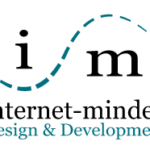 Internet-Minded was born in 2011 from collaborative works developed between David Ernst and Priscilla Borges, Bloomington (IN) residents. Together we can go much farther with webdesign, enjoying their home-office and aiming to satisfy the most demanding clients. We continue to offer our work separately as well as in collaboration, depending on your needs.
"Her creativity and attention to detail is inspiring. I highly recommend her."
Steve Houghton – Jazz Artist, Author, Educator
"She was clear, timely and so insightful. She was able to envision my web presence beyond my expectations (…)"
Matece Skow
(Nourishing Heart Yoga)
"Priscilla got our organization out of a real jam(…)"
Miriam Graham (New Harmony Music Festival)
"Working with Priscilla is a joy! She was attentive to details
and conscientious (…)"
Paula Bates
"I would hire her again in an instant (…)"
Sam Bartlett 
"She has an artist's touch, a technical designer's expertise, a phenomenal ability manage details (…)"
Greg Burdulis
"Priscilla would listen to my ideas and incorporate them while still making suggestions that would make the website better."
David Rupp
"Priscilla Borges did an elegant job with
some complicated requirements.(…)"
Patsy Rahn (The Writers Guild at Bloomington)
"(…) A nice aside–it's a blast working with her!"
Cynthia Bretheim
"Working with Priscilla was a great experience. (…)"
Juliet Shapiro
"She is extremely conscientious, creative and collaborative. (…)"
Amy Pardieck (Perceptual Litigation)
"The price of the project  was quite reasonable,
and the quality is great.(…)"
Ken the Caller
CONTACT ME
Let' me know your ideas. I offer free estimates!